Ninian Lounge
Named after the previous home of Cardiff City FC and for its views overlooking the previous grounds' site, the newly introduced Ninian Lounge brings a fresh offering to Cardiff City Stadium. With ample natural lighting and a fantastic view of the pitch, it's the perfect backdrop for any party of up to 500. 
Key features: bar, natural daylight, exhibition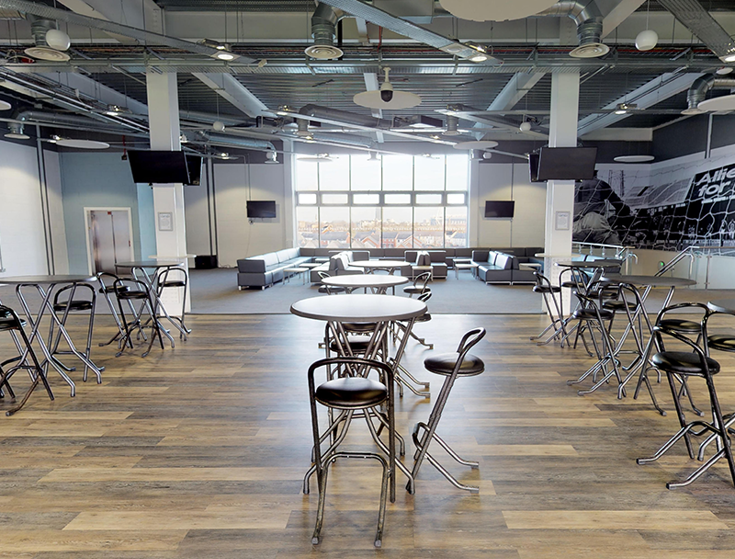 Ninian Lounge at Cardiff City Football Club
Located in the Ninian Stand of Cardiff City Stadium, the Ninian Lounge sets the bar high for private parties and conferences.
Situated on level 4 with lift facilities from the main reception, the Ninian Lounge has natural daylight throughout with a fantastic view overlooking the pitch. The lounge also has two bar facilities, air conditioning and complimentary Wi-Fi throughout. With two smaller syndicate spaces located directly next to the lounge, it's the ideal space for a wide variety of events.
Number of delegates & room layouts
This facility can hold up to 500 delegates detailed by the different layouts below:

Make an Enquiry
Ready to kickstart your event at Cardiff City Stadium?
Tell us about your ideas and we'll contact you straight away to discuss how we can bring them to life.
Please complete the form below to submit an enquiry and we will endeavour to respond within 24 hours. Alternatively, you can contact us by phone or email: