A versatile exhibition venue
Looking for a spectacular exhibition venue in Cardiff? Our events space in Cardiff City Stadium, home of Cardiff City Football Club, gives your exhibitors a superb location to network and showcase themselves.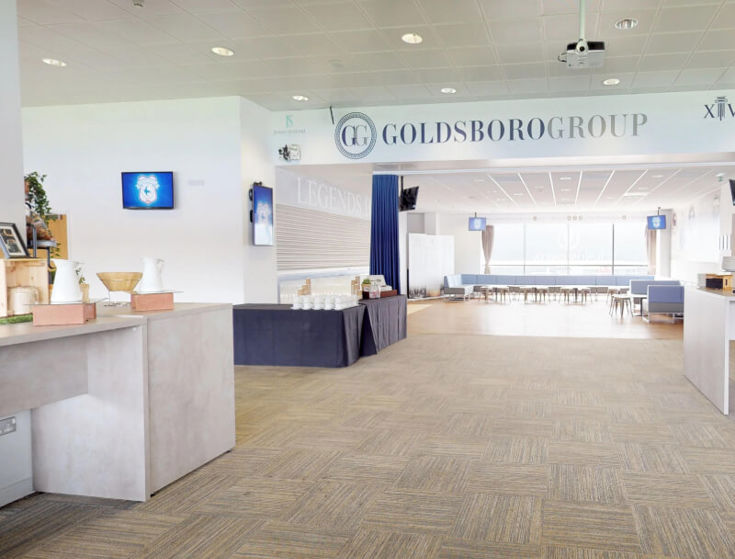 Discover our buzzing exhibition venue
With 517sqm and a 5m ceiling height our main event space, the Ricoh Suite, can host up to 50 shell scheme exhibition stands. This makes it the ideal setting for smaller trade shows, expos, business fairs and networking events. We also provide a range of smaller function rooms if you want to include break-out sessions and smaller seminars in your event itinerary.
As a state-of-the-art sports stadium, Cardiff City Stadium was designed to deliver an electric atmosphere – both on the pitch and off it. With dramatic views, our venue never fails to get people talking and generate a real buzz on the exhibition hall floor.
The ideal event space for your exhibition
Cardiff City Stadium is designed to welcome over 33,000 visitors on match days. This means it offers excellent transport links via the M4 plus complimentary parking for up to 1000 of your exhibition delegates. For those arriving by train, nearby Cardiff station offers regular fast connections to London, Swansea, Bristol, Birmingham and beyond.
In the run up to an event, we know that every moment counts. So it's good to know the close by city of Cardiff offers a range of quality hotels and accommodation options for your core team of event organisers, partners and exhibitors to stay at.
What's more, if you need help bringing your ideas to life or putting the finishing touches to your exhibition, our specialist events team are here to help – before, during and after your event.
Find your space
From small events to large occasions, you'll find we have spaces to suit your requirements.
I want an event space that can host:
Facilities that meet your event requirements:
No facilities match your requirements. Try updating your search.
Quick room size comparison table

Planning a different type of event?
As well as exhibitions, you can also book our private event spaces in Cardiff for business conferences, meetings, and private events such as parties and weddings.
Make an Enquiry
Ready to kickstart your event at Cardiff City Stadium?
Tell us about your ideas and we'll contact you straight away to discuss how we can bring them to life.
Please complete the form below to submit an enquiry and we will endeavour to respond within 24 hours. Alternatively, you can contact us by phone or email: