Fred Keenor Suite at Cardiff City Stadium
The Fred Keenor Suite is a classic space with small Cardiff City FC touches throughout and suitable for up to 50 delegates or dinners for up to 40 guests.
Key features: Wi-Fi, natural daylight, air conditioning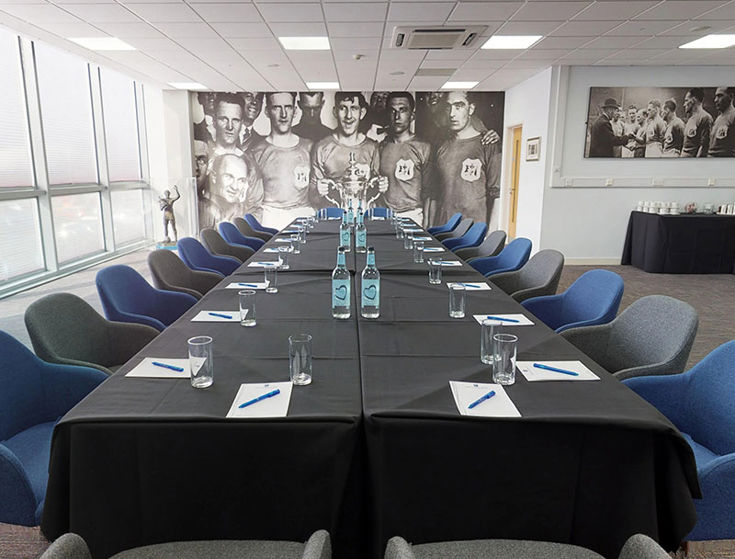 Fred Keenor Suite at Cardiff City Football Club
Named after the Cardiff City FC legend, the Fred Keenor Suite pays homage to the historic player, providing the perfect atmosphere for any Welsh football fan and for motivating your guests. 

With a scenic view of Cardiff, the Fred Keenor Suite is the ideal space for conferences for up to 50 and small dinners, boardroom meetings and training sessions.
Located on level 2, it has ample natural light, complimentary wifi and air conditioning, perfect for those requiring something simple, yet effective, for their next event. It also makes for the perfect breakout room for conferences utilising the adjacent rooms located on level 2. 
Number of delegates & room layouts
This facility can hold up to 50 delegates detailed by the different layouts below:

Fred Keenor Suite Floor Plan
Make an Enquiry
Ready to kickstart your event at Cardiff City Stadium?
Tell us about your ideas and we'll contact you straight away to discuss how we can bring them to life.
Please complete the form below to submit an enquiry and we will endeavour to respond within 24 hours. Alternatively, you can contact us by phone or email: